For the first time the German Offshore Wind Initiative GOI will travel to the east coast of the USA together with a delegation of German offshore wind representatives on the occasion of the IPF2022.
Together with US Country Representative Mike Matthews , the initiative is organizing numerous business meetings and networking events on site during a ten-day trip. We would like to invite you to our free, public events "Bier and Brats Reception" and to the workshop "Lessons from Energiewende: Applying German Solutions for Sustained US Supply Chain Growth" .
Also visit our booth at the International Pavilion (Booth #223). Take the unique opportunity to network and exchange ideas on site, we look forward to seeing you!
When & Where
Tue 26 – Thu 28 Apr 2022
Booth #223, Atlantic City Convention Center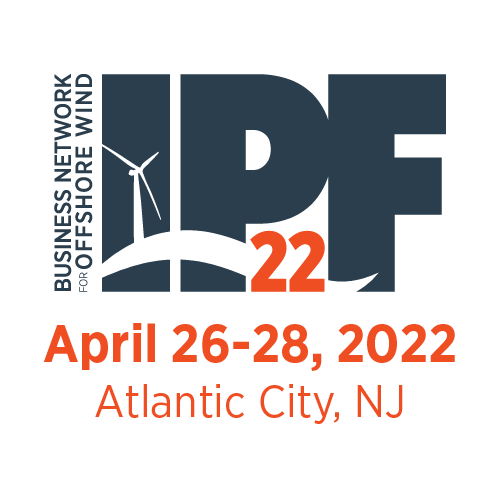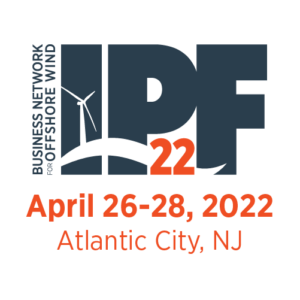 Participants of the delegation*:
*All companies are offshore wind companies that are already successful in the German offshore wind industry and are now trying to either enter the US market or to further expand their business in the US.
Schedule of GOI Hosted Events
Here you will find an overview of all activities of the German Offshore Wind Initiative GOI related to the IPF2022:
Monday April 25th
5:00pm Offshore Wind Business Roundtable Discussion –Invitation only
6:30 p.m. German Bier & Brats Reception (Tennessee Avenue Beer Hall, Atlantic City, NJ) – Register here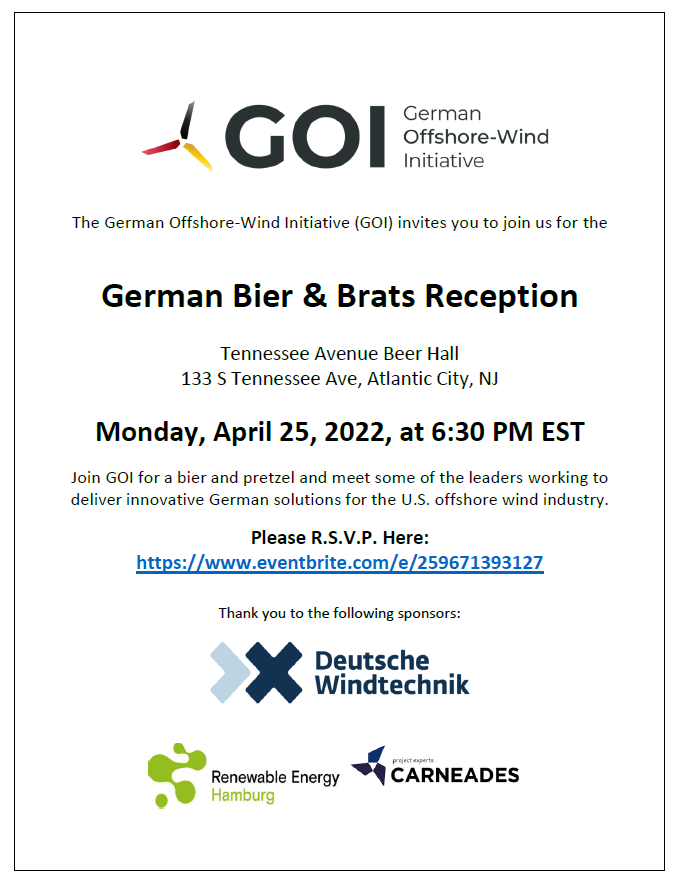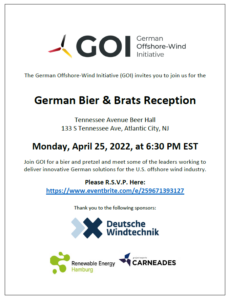 Tuesday April 26th
9:00am Quayside Connections with GOI Companies – International Pavilion – Booth #223
5 pm
11:00 a.m. Meeting with New Jersey Energy Officials – Atlantic City Convention Center (tbd.)
Wednesday April 27th
Quayside Connections with GOI Companies – International Pavilion – Booth #223
Thursday April 28th
WORKSHOP
Lessons from Energiewende: Applying German Solutions for Sustained US Supply Chain Growth
8:30 a.m. Atlantic City Convention Center (Room #313)
Moderation
Mike Matthews – US Representative, German Offshore Wind Initiative (GOI)
Participants
1. Elmar Friedrich – President and Project Director, Community Offshore Wind
2. Thomas Koebinger – Manager, Pipeline & Business Development, WindGrid
3. Alexander Kruse – Managing Partner, Carneades Project Services GmbH