On March 27, 2023, the second German Offshore Wind Initiative Summit took place in Taipei (Taiwan) in the presence of high-ranking representatives from the offshore wind industry. Our GOI representative David Chiang once again put together a varied program of events, which enabled discussion of the future prospects of offshore wind power in Taiwan and the opportunities and problems in realizing offshore wind power projects in the near future. The Summit consisted of two keynote speeches by representatives of the Taiwanese offshore wind industry, followed by panel discussions on the respective topics.
The event began with an opening address from Offshore Wind Power Foundation Board Member Dr. Martin Skiba, who congratulated Taiwan on the success of the recent auction and the forthcoming announcement of the floating wind turbine demonstration projects. Other opening speeches were held by Deputy Economics Minister Wen-Sheng Tseng and Dagmar Traub-Evans, Deputy Director General of the German Institute in Taipei.
The first speaker of the event was Bureau of Energy Deputy Director-General Chung-Li Lee, who provided attendees with a highly informative overview of the background, current status and future prospects of offshore wind development in Taiwan. The second speaker at the event was Professor Ma Kai-Tung from National Taiwan University. He explained the areas where Taiwan is and is not ready for offshore wind power development.
It turned out that 2023 will be an eventful year for offshore wind energy in Taiwan. After successfully completing the first round of auctions in late 2022, developers look forward to a second round in the fourth quarter of this year as the Taiwanese government prepares to announce plans for a series of offshore wind demonstration projects.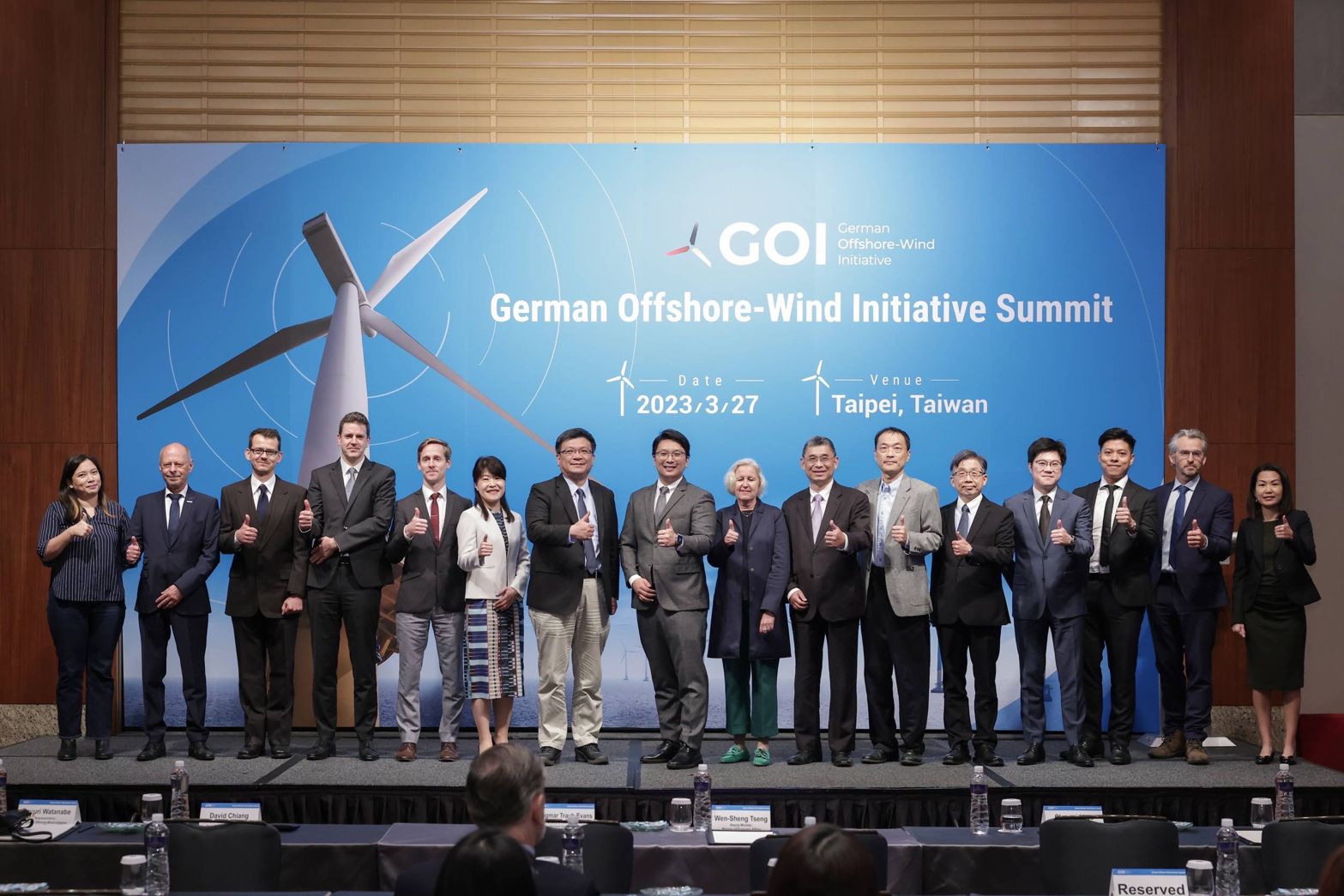 David Chiang with the speakers of the event (please click for full size image).
© German Offshore Wind Initiative GOI.
Press coverage on the German Offshore Wind Initiative Summit in Taipei:
April 11, 2023: Taiwan expected to make offshore wind progress | 4C Offshore News